Invest in Your People and Reward them at the Same Time
Executive Communication provides highly interactive and intensive Business English Seminars designed to speed up the learning process and expose participants to the English Language in 2 to 7 days working closely with English Native Speaking Trainers, especially trained for high impact delivery and communication.
The Syllabus and Business Functions can be custom tailored in conjunction with your company to focus on what it has assessed to be of most importance. For instance, there can be one to one sessions, which focus mainly on the individual's weaknesses, and shared Business workshops, which focus more on Language interaction, vocabulary building and group work development.
Some areas of focus for these seminars are: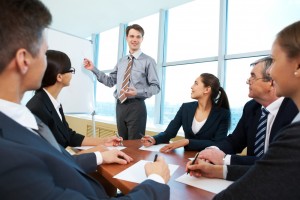 We can conduct these Seminars wherever your businesses are located but we also can arrange for them to be done in various hotels in Greece or in English speaking Malta. This way the participants will have to practice their English outside the classroom environment, in real circumstances.
Reward your people and increase their productivity at the same time. We can arrange for seminars for participants from abroad to be conducted in Greece in combination with tours and entertainment. It is an investment in your people. A great way to show the high potential employees of your business that you care for their development.