A corporate team is like a human body: every part is essential and valuable in its own way. No matter how good an employee is, negative relationships with colleagues will tend to sabotage all positivity and goal-achievement. A good manager knows the importance of team bonding and in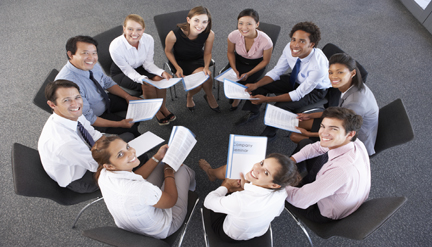 spiring trust in his employees. With commitment to each other comes commitment to the company, and overall creative input increases exponentially. Powerful sales-people learn to identify the well-being of their company with their personal sense of worth and achievement. A healthy team can provide a fertile environment for personal growth and a great platform for career advancement.
That is why, at Executive Communication, we undertake to develop executive teams even further. By exploring what is best about a team and their current interaction and trying to build on that, we can rely on a basis of strength, trust and solidarity. The environment required for building a high performance team is, most importantly, one that allows for candid interaction. Many functional work groups perform effective and impactful work, but few can be considered highly integrated and cohesive. If teams aren't even effective, the organization will find it difficult to be profitable or productive. Executive Communication aims to offer seminars that will help create dynamic teams.
As with all of ExeCom's Business Seminars, Team Building sessions can be offered one-to-one sessions or in group classes. Training is provided on site in Athens, Greece, or online for people who live in other parts of the world.